3/22/2001 Off we go back to SHANDS! Leaving at 10:30 am.
3/21/2001 I got through the worst of it, for round #2. I feel better, my lips have color again. And Im not having to use that handicapped permit now. Since the 15th I underwent my first accupuncture treatment. Oh My God, it was great. Thank you Lily Diamond at Diamond healing, (At essentials in healing in Vero). Unbelievable. Im kinda starting to mix Eastern Medicine, with Western, including Massage, Accupuncture, and some chinese herbs with the Chemo. Tell ya what, I feel better. Even stopped by my old PV Martins the other day and actually helped out for about 30 minutes. Was good to get the old blood and sweat pumping again. (Hi Ernst, Ali, Diane, Velma, and the Gang). Yesterday I had my cat Scan, went good. What I could see was a decrease in the cancer, but I aint no radiologist, so by tommorrow I should know the "official" word. We leave tommorrow morning for Gainesville again.
3/15/2001 Well, my headache has been so bad the last few days. Since my last entry, the chemo really kicked my butt. My hemoglobin went down to 6.2 which is pretty low, close to needing a blood transfusion, but so far just staying in bed. My white cells crashed to .6, but today have rebounded to normal. So the road is rocky right now, but I am doing ok. Have heard from some of my old friends from the past, which has been really nice. And the cards, flowers, and good wishes continue to come in. Mom has been doing such a great job of nursing me, I wish I could give her an honorary nursing degree! This week I have really felt what it's like to be disabled. I have been short of breath and weak, it's such an eye opener. I will never look at a handicapped parking permit the same after this week. Catch ya soon! CB
THE SCOOP:
Who would ever think one would have a health update Link, on their homepage. Geez, what can I say. Ya think in this world that you live forever, we get all caught up in the day to day about girlfriends, and boyfriends, or sports, or hobbies.... and then one day, we realize that life can have limits. We do take advantage of life and the wonders that the world has to give, by not taking a second to smell the roses, or hear the birds, or taste the water. Please, do all of those, and take a second to realize all that you do have, cause ya never know what lies behind that next turn!
Since Dec 99: I've been fighting AIDS, thats right, I said it... AIDS. When it was HIV infection, it didnt mean much, that is until things took a major dive. And just when things begin to start to get better, wham, Lymphoma in the middle of the new millenium, oh joy! What's lymphoma you might ask???? Well, cancer of the lymph system, which requires for most, chemo therapy, and baldness. I've been through it once, from July 2000 until November 2000.. And thought I was in the clear ready to start focusing on my masters in nursing, when BAMM, the need to start this calendar of events. I continue it because so many people in my life care, some that know me, and many that don't.

(Old Entries)
Dear Damn Diary:
1/2001 Had a biopsy on the 25th. Some nodes in my groin area have been flaring up. Kinda scarey, could be the lymphoma again, or a weird infection. Im scared, but I am confident that whatever the outcome, there is reason for it. All my closest friends say it's nothing to worry about. If things do get worse, I can honestly say, I have been blessed in this life, I have laughed my ass off, and cried, and have Loved! Im not giving up the ship yet! And those prayers are doing wonders, so thanks for keeping em up!! >>>>>
2/1/2001 And??? the outcome of the tests??? The lymphoma is back, a minor hurdle, probably have some more chemo or radiation... will know more soon. Cat scans and ultrasounds coming soon. What a roller coaster !!! I love you all!
2/5/2001 Well, after a lot of telephone calls with different Doctors, including Dr. Pierone, Dr. Weeks, and Dr. Vu, and Dr. Geffen, I am going to a specialist in Gainesville at Shands Teaching Hospital this thursday to be screened for some new treatments. Dr. Lynch is top in his field. So looks like we will be taking the 3 hour drive to Gainesville wednesday night, and go from there. I did buy a lap top, so If I can get online...I will! Don't stop the prayers now! :) love ya...

GAINESVILLE:
2/8/01 Im off to Gainesville with my mother, and my boyfriend Jose. (picture above) And Im scared shitless. One of the best Doctors in the country Dr. lynch has perscribed a Chemotherapy infusion that I will start up here in Gainesville, and continue for several treatments. The Lymphoma is right now in my leg, and in my lungs. But, I am more focused on life, and more focused on living right now, and really feel the power of love, and prayer.
2/10/01 I'm Handling the chemo treatments great. The staff at UF at Shands have been unbelievable. The nursing care and doctor care here has been unsurpassed so far. They have renewed my faith in the ability of my own career in nursing, and helped me realize that there are great Doctors and Nurses out there in hospitals that really do care!! And believe it or NOT , that makes a big difference. So far no vomitting, no major problems..... !
2/12/01 Mom and Jose have endured the visit. My loving boyfriend stayed in the room with me the whole time, and mom was by my side except when she went to the hotel room to sleep. And I am driving myself home. That was my goal, to drive myself to treatment, and to come home. So far, I feel ok. Im still praying!
2/13/01 BACK IN VERO BEACH.... Just waiting, seeing how things are going to go. The effects of the meds, the next treatments in 21 days, the cat scans coming up, the lab work. Another battle..... cause I love a fight! Will update ya again soon!
2/22/01 Well, saw my doctors this week, things are going good. Handling the new chemo well. No puking or feeling crappy. Getting ready for our next trip to gainesville. We have decided that's the best thing for me. That will be 3/1-3/4 or so, and then we will come home again. Mom will stay at the Holiday Inn up near the hospital again.... my Guardian Angel she is.. I am so lucky. My weight is good, My appeitite is good, and the HIV is undetectable, so we will know by the middle of March how the body is responding to the Chemo, I feel it's doing a good job.
3/01/2001 Going to be going back to Gainesville for cycle number 2 of 4. So far so good. Will be up there for 3 days or so. Mom and are going to drive up first, and Jose is going to meet us up there Saturday morning. Before we leave though, I get my day in court to sue Regis Hair Salon..2 years ago they burned my scalp and today is the mediation. So, a full day at that. Things continue to go well, Dr. Weeks was very happy at how well I am handling the chemo. It's the "ashes" I told him, from Ash Wednesday. Next update coming soon...... and thanks!
3/02/2001 We are here... and its amazing. God has pulled through and made me smile with another private room, this one bigger than the last one.. desks 3 tv's geez.. its like a suite. The Chemo is right on target, had a lumbar puncture today, went fine. And Mom just brought me some pizza to have a night snack. Jose is on his way to stay the weekend in my room again. So things are looking good. I feel great right now, and my spirits are high. The Power of LOVE... dont underestimate that medication!!! Its' probably the best just above LAUGHTER.... will update tommorrow. Thanks for being interested.... I see the number of hits on the site.. and it amazes me! The Doctors are amazed at how wondeful I am taking this.... Love chris
3/05/2001 Well.. My IV is almost done.... 11:00 tonight. SO Ill be going back to Vero Tommorrow. THings here went well again. These nurses here are unbelievable. Just the bomb. I love em all. And the doctors, it's like Giddeons Crossing, they are all young and gorgeous! Well, Next is a cat scan in 2 weeks to see if all this is working. My intuition is, that it is working! And that maybe by the end of the summer I will Really Be In Remission!!! :) Love... Blessed be!
3/06/2001 Discharged again: Back to Vero Beach. Love that staff at Shands, Thanks Scott, Krista, Eyrane, Allison, Mel, Laurie, Phyllis, and so many more... :) See ya in 3 weeks.

3/9/2001 Egads.... Trip # 2 to Gainesville went good..as you can see by my Diary Entries below, but "Oh my", the last few days have been hard on my body. Feel like Ive been hit by a truck! I have been in bed for the last 2 days, and plan on staying here until Monday. It could be worse.. Im very achy, have a bad headache, and kinda weak and tired. Avoiding the outside since strep throat seems to be flying around this month. I'm hanging in there. Thanks again to the great staff at Shands.... Will see ya again on the 21st. Big thing coming up next is my Cat San on the 20th. Keep your fingers crossesd. :) Later!! Chris





FYI and Special Thanks!
When things get bad in life, Sometimes you do not know which way is up! But no matter which way is up, I want everyone to know how much I appreciate the love, thanks, and support from all of you . My friends and family have been wonderful, but the unexpected love from people like Geffen Cancer Center, or at Dr. Pierone's office. Also thanks to the newest members of my health care team, Dr Fred Weeks, and Dr Lynch, and their Staff. That kind of love and energy that surrounds theses people is unexpected, and that kind of warmth and caring makes all the difference in the world. Thank you All...



Have Questions?? Need Answers???? Click here to send email:cblatusrn@aol.com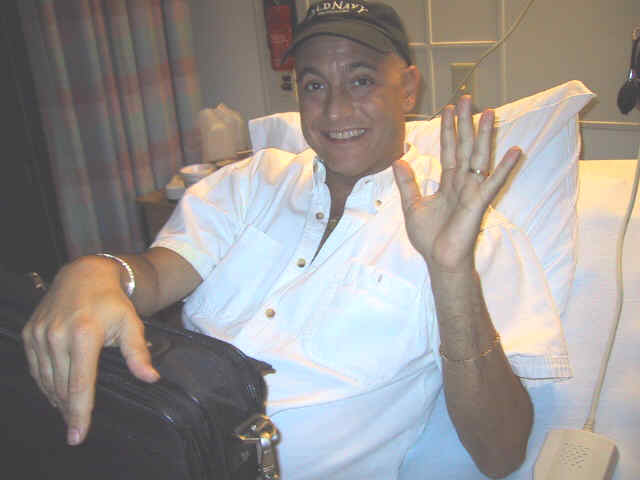 MARCH 4TH AT SHANDS
Round #2



CLICK ON THE PHONE TO SEND A BRIEF EMAIL TO MY CELL PHONE (UP TO 100 CHARACTERS)






Click on letter to Email me!!
Click here to go back to main page!