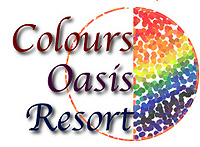 HotelColours!

200 meters before the end of the triangle in Rhormoser
San Jose, Costa Rica!
TEL: 011-506-296-1880
Email:newcolours@aol.com

















THE PLACE I ALWAYS STAY IS HOTEL COLORES!
I RECOMMEND IT HIGHLY!



Great Rates always available!
Ask to meet me
and I'll buy you a drink if I am there
Email San Jose Colours Directly Here for Reservation information!



Colours Oasis Resort
has everything possible to make your tropical break complete:

Lavish mirrored rooms
In room TV, VCR and CD players
Intimate & Secluded garden jacuzzi
Swimming Pool
Mini-Gym
Widescreen TV lounge
Massage Room
Complimentary booking for excursions & beach hotels

Mention gaychris.com for a drink on me!



Other Links:
My First Costa Rica Trip 97-98
Click here to see a My Video of Costa Rica
recommended with DSL or cable
Now Serving: